Radiology Masterclass - Tutorials

Introduction
These tutorials will give you a good foundational knowledge in the art of radiological interpretation. Please read the page on 'using the tutorials' before you start.
Read these tutorials and then build your knowledge in the related galleries section.
Selected tutorials and galleries are the basis of our certificated online course completion assessments, accredited by the Royal College of Radiologists, London UK. Completing an assessment and getting a certificate of course completion is great way to enhance your portfolio, without the expense of travel or accommodation.
NEWS -
New Trauma X-ray Quizzes
Trauma X-ray Quiz - Upper Limb
The Radiology OSCE (video)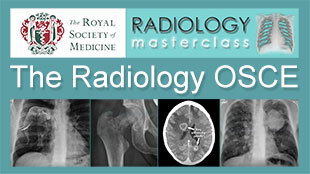 Presentation by Dr Graham Lloyd-Jones at the annual finals conference of the Royal Society of Medicine. Essential tips on how to get through the Radiology OSCE. Watch video >>
Follow Radiology Masterclass
Please subscribe to the Radiology Masterclass email newsletter to keep informed about new content, offers, competitions, and the affiliation scheme.
Radiology at a Glance
Co-authored by Dr Graham Lloyd-Jones, Radiology at a Glance is an excellent overview of the basics of medical imaging. See independent review.