Radiology Masterclass - Test Yourself

Test yourself OSCE scenarios
The test yourself scenarios below are based on the Objective Structured Clinical Examination (OSCE) style assessments often used in UK medical schools.
Chose one person from your group to be the examinee, another to act as examiner, and others to observe.
The examinee has one minute to read the clinical information before each OSCE scenario begins. You are shown an image which you should present. You are then asked questions relating to the image and the clinical scenario.
Read the OSCE presentation tips page before you begin.
The examiner can use the sample OSCE scoring check lists for reference.
At the end of each OSCE we will take you to an image interpretation page and give you answers to the questions are provided. We also provide some tips in the discussion page for each scenario.
NEWS -
BBC World Service interview
Listen to the BBC World Service interview with Dr Graham Lloyd-Jones, Director of Radiology Masterclass.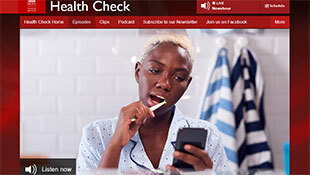 Hear about the potential for viral delivery from the mouth to the lungs via the blood vessels and why looking after our mouths could be vital.
Listen here - https://bbc.in/3KzfDK9
Oro-Vasculo-Pulmonary route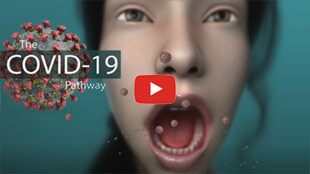 Dr Graham Lloyd-Jones explains the theory that SARS-CoV-2 could take the same infection route as seen in endocarditis - via the veins of the mouth, neck, and chest, directly to the pulmonary arteries. Read more here - COVID-19 Oro-Vasculo-Pulmonary route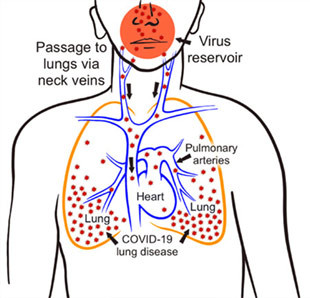 COVID-19 Lung Disease: A Pulmonary Vasculopathy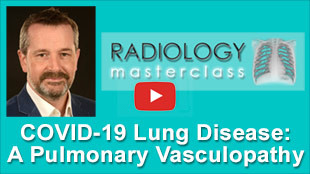 Watch the presentation by Dr Graham Lloyd-Jones, Director of Radiology Masterclass, given on November 11th 2020 at the annual conference of the British Society for Haematology, titled - What can the Radiology tell us about the vasculopathy of COVID-19 lung disease?
COVID-19 resources
The COVID-19 pathway video animation
Update from Dr Graham Lloyd-Jones, director of Radiology Masterclass. Acute COVID-19 lung disease: A pulmonary vasculopathy - not a respiratory pneumonia
Email Newsletter
Please sign up to the Radiology Masterclass email newsletter to keep informed about new content, offers, competitions, and the affiliation scheme.
Facebook
Follow Radiology Masterclass on Facebook to hear when new content is published.
Twitter
Follow @DrGrahamLJ. Commenting on radiology and links between oral health and systemic diseases.
Recommended textbook
Radiology at a Glance - 2nd Edition
Co-authored by the author of Radiology Masterclass, Radiology at a Glance is a complete overview of medical imaging suitable for medical students, junior doctors and other health professionals. Second edition published September 2017.