Radiology Masterclass
Radiology Masterclass provides online medical imaging education resources for medical students, doctors, and allied health care professionals.
Build your skills in medical imaging by using our free learning material, and then sign up to a course completion assessment to prove your knowledge.
COVID-19 resources
Now listed on one page. Go to resources.
NEWS -
New Trauma X-ray Quizzes
Trauma X-ray Quiz - Upper Limb
The Radiology OSCE (video)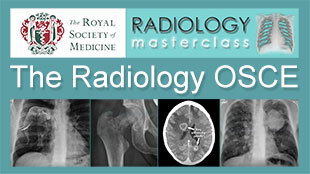 Presentation by Dr Graham Lloyd-Jones at the annual finals conference of the Royal Society of Medicine. Essential tips on how to get through the Radiology OSCE. Watch video >>
Follow Radiology Masterclass
Please subscribe to the Radiology Masterclass email newsletter to keep informed about new content, offers, competitions, and the affiliation scheme.
Radiology at a Glance
Co-authored by Dr Graham Lloyd-Jones, Radiology at a Glance is an excellent overview of the basics of medical imaging. See independent review.