Radiology Masterclass
Radiology Masterclass provides online medical imaging educational resources for medical students, junior doctors and allied health care professionals.
Build your skills in medical imaging by using our free to access material, and then sign up to a course completion assessment to prove your knowledge.
For information about COVID-19, please see the COVID-19 discussion page.
NEWS -
The Oro-Pulmonary route
Could the oro-pulmonary route (gums to lungs) be a significant link between poor oral health and severe COVID-19?
Dr Graham Lloyd-Jones explains his theory that COVID-19 could take the same infection route as seen in endocarditis and Lemierre syndrome - via the veins of the neck into the pulmonary arteries. Read more here - COVID-19 Oro-Pulmonary route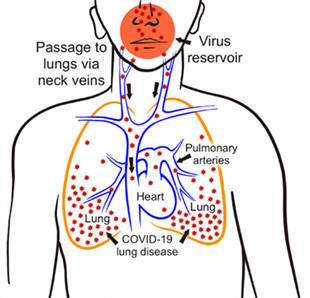 COVID-19 Lung Disease: A Pulmonary Vasculopathy
COVID-19 lung disease is not a respiratory pneumonia. Radiologically the disease is more accurately considered to be a disease of the lung vessels, a pulmonary vasculopathy.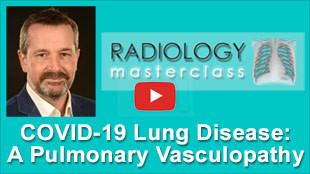 Watch the presentation by Dr Graham Lloyd-Jones, Director of Radiology Masterclass, given on November 11th 2020 at the annual (virtual) conference of the British Society for Haematology, titled - What can the Radiology tell us about the vasculopathy of COVID-19 lung disease?
COVID-19 discussion update
Update from Dr Graham Lloyd-Jones, director of Radiology Masterclass. Acute COVID-19 lung disease: A pulmonary vasculopathy - not a respiratory pneumonia
Email Newsletter
Please sign up to the Radiology Masterclass email newsletter to keep informed about new content, offers, competitions, and the affiliation scheme.
Facebook
Follow Radiology Masterclass on Facebook to hear when new content is published.
Recommended textbook
Radiology at a Glance - 2nd Edition
Co-authored by the author of Radiology Masterclass, Radiology at a Glance is a complete overview of medical imaging suitable for medical students, junior doctors and other health professionals. Second edition published September 2017.