Radiology Masterclass

Your Reviews
Thank you to all those who have contacted us with comments and ideas. Here are some of the things people have said about Radiology Masterclass. To let us know what you think please get in contact via the contact us page.
Thank you!
Undeniably the best resource for medical students and junior doctors wanting to learn from scratch or refresh their knowledge of radiology.
Alexander Watt - University of Aberdeen, Scotland.
Radiology masterclass is an essential tool for anyone who wants to learn about radiology and should be used by all medical students and junior doctors in order to ensure that they have adequate systems in place to review X-rays and to avoid the common pitfalls which can occur when reviewing X-rays. I cannot thank the author enough for such a well thought out, extremely well illustrated and highly informative images with explanations, many thanks..
Michael Burke - The Royal Oldham Hospital, England.
Hugely useful site both for getting to grips with radiology and for revision purposes. Would highly recommend to all medical students, particularly those needing to improve their interpretation and presenting skills.
Joe Barrett-Lee - Southampton Medical School, England.
I love this site... The graphics are great and the explanations are short and precise. I like the fact that I can use it for short study/revision sessions and still get a lot out of it.
Wadzanai Mandeya - Northwick Park Hospital, London, England.
As a junior doctor interested in a career in Radiology I have found Radiology Masterclass the best free educational resource for Radiology. The unique style of showing abnormalities as they present, and then highlighting them for clarity makes a powerful educational impact. I teach at Manchester University and my students also find the resource invaluable. Thank you very much.
Sarah Sharp (Anatomy Demonstrator) - Manchester University, England.
I have been using this site since university. I find it extremely useful as a CPD tool and it has helped me to increase my knowledge and improve my commenting within the A&E setting.
Jeff Richards - Poole Hospital, England.
Radiology Masterclass is the best online resource for radiology teaching that I have encountered. The breadth of imaging findings covered is more than sufficient for medical student level, without being overly time-consuming, and the image scroll-over feature to reveal highlighted abnormalities allows you to test yourself before finding the answer. I would love to see the tutorials and galleries extended to cover important CT and MRI topics.
Iain McGurgan, Trinity College, Dublin, Ireland.
Fabulous teaching and revision tool! Very thorough and systematic. Makes radiology fun!
Hadas Koorlander, Kings college, London, England.
This site has been my radiological saving grace. I genuinely enjoy it and use it to break up the monotony of textbook/lecture based learning. From scratch I have learnt how to interpret an abdominal radiograph and feel reasonably confident to systematically attack it in my OSCE with sensible differentials at hand.
Dale Kirkwood - Leicester Medical School, England.
Radiology Masterclass helped me during my student training and has continued to teach me as a qualified Radiographer. Don't know what I'd do without this site. Invaluable.
Jamie Saunders, Essex Cardiothoracic Centre, Basildon, England.
THIS IS A WONDERFUL SITE!!! Your tutorials are so helpful. I really am looking forward to more on abdominals and extremities...
THANKS! DON'T STOP!!!
Aldinette Lockett, Radiologic Technology student, Lancaster, England.
This is a brilliant site! What can I say? Well done to those who put this together. I am preparing for an O.S.C.E in Ireland and this site has been more than helpful to me..... I will recommend this site to anyone any day.
Emmanuel Aneni - PLAB candidate, Dublin, Ireland.
This site has proven to be THE find of the year for my revision! I like that there is both the teaching aspect and self testing facilities available.
Alfreda Asare-Botchway - King's College London, England.
This site is extremely well structured and helpful at explaining many basic radiographic principles.
John Campbell - UMDNJ, School of Osteopathic Medicine, New Jersey, USA.
Very useful indeed. Pitched at just the right standard before finals.
Charlotte Joanne Brankin, Nottingham University, England.
Incredible resource! I'm stunned that I've only just come across it. I've recommended the site to Manchester University tutors to pass on to future students.
Axel Sylvan, Manchester University, England.
Overall, a very good site and high quality material! As a first year medical student taking radiology as one of my student selected components, I have found this site very useful. In particular, I like how the annotations/ drawings on the X - ray images can disappear and reappear depending on the position of the cursor. I would like to see more course material added, in particular for different scanning methods e.g. PET, MRI. This could be funded using online advertising on the site.
Danning Li, University College London, England.
Thanks for introducing these images which are very good for demonstration. I'm a radiologist in training and truly it is rare to have this quality of images.
Ernesto Gomez Nuño, Centro Medico Nacional Del Bajio, Mexico.
I've encountered this site just by chance while surfing the internet in order to review classic neuro-imaging cases. Here is what I liked about Radiology Masterclass:
- very clear explanation of radiological syndromes
- anatomic and pathologic correlations
- user-friendly interface
What I think might be improved: The most striking drawback is that you cannot get the films zoomed in high definition on this site; sometimes it's worth to look over the film not only in context with the case presented with the picture.
Sviatoslav Redko, Belorussian State Medical University.
This website's step-to-step guides to radiology has proved invaluable towards my finals revision and is one of the top revision materials available.
Michelle Jie, University of Nottingham, England.
Excellent site for learning radiology.
Jesia Mansoor, Al Baraha Hospital, Dubai.
Very helpful, simple and systematic approach which is very helpful for beginners!!
Vani Jayaram, Government Medical College, Thiruvananthapuram, India.
This site is very useful... I use it for review of common findings and conditions in general practice... Thanks a lot...
Piyachat Punthasen, Charoenkrung Pracharak Hospital, Bangkok, Thailand.
I am a radiographer who is involved in teaching. I find this website very useful and always recommend it to my students.
Jo Holmes, Russell's Hall Hospital, Dudley, England.
This is a great resource for quick referencing and longer deeper learning of image interpretation that helps to aid diagnosis. I definitely recommend it.
Paul Lockwood - Princess Royal University Hospital, Kent, England.
I have found this website very useful for revision during Finals and come back to it now that I am a practising Foundation Doctor.
Vincent Lam - Darent Valley Hospital, Kent, England.
A brilliant resource for novice to experienced.
Mohammad Asif - Bristol Royal Infirmary, England.
Great site. Excellent images with clear and concise explanations. Use it for radiology revision.
Mariyam Ali - University of Leeds, England.
Excellent website. Very useful for finals revision.
Sarah Wheeldon - Oxford University, England.
Excellent images, very good structural methods of teaching.
Very useful, Thank you.
Hesham Turki - Pilgrim Hospital, Lincolnshire, England.
The site is a wonderful resource for many, not just for medical students. I am a medical physician working in a low resource setting and am finding this site an excellent resource for myself and also as an aid for teaching others.
Carolyn Reid - Paam Laafi hospital, Ouagadougou, Burkina Faso.
The image galleries contain useful normal and variation images for comparison, which is sometimes lacking in other sources. Images of pathologies and variants are abundant and well-explained. The function of mousing over images to demonstrate clear markings of abnormalities is extremely helpful. The OSCE scenarios are well considered, well explained and well talked-through.
Amy Allen - Oxford, England.
Very good, particularly helpful being able to see structures highlighted over the x rays.
Jacob Day - Oxford University, England.
Huge collection of xrays with some really interesting cases. Definitely increases one's knowledge and interest in radiology.
Ayesha Sultan - Army Medical College Rawalpindi, Pakistan.
Wonderful site that will surely save me and my exam prospects! Thank you Radiology Masterclass!
Benjamin Rapaport - University of Nottingham, England.
Very simple informative site... One of the best online resources.
Ahmed Elowaid - Ain Shams University Faculty of Medicine, Cairo, Egypt.
This web site is awesome. I really appreciate all the knowledge and expertise that Radiology Masterclass has been sharing with all the healthcare professionals around the world. Thank you!
Hernán Giménez - Universidad Favaloro, Buenos Aires, Argentina.
Good general overview of topics at a medical student level.
Melisa Sia - Leicester, England.
I wish I had something like this in Med School! This website has been great for my exam revision. With regard to interpretation and practical hints. I like the summarising key points and the "hover over" ability of this site.
Rebecca Wong - Austin Hospital, Melbourne, Australia.
Radiology Masterclass is an extremely useful learning resource as it provides both information and an opportunity to practise interpretation.
Katherine Hull - University of Leicester Medical School, England.
A wonderful site for budding radiologists... Keep up the good work and thanks a lot.
Pranav Pandoh - Ascoms Hospital, Jammu City, Jammu and Kashmir, India.
Excellent resource. The highlighting of pathology is a great way to see the signs, the explanations are very clear and it's very useful to have both tutorials and quizzes on one site.
John Moore - Nottingham University, England.
Very good images, easy to use site and integration of clinical medicine and radiology.
Stephanie Janecke - University of the Free State, South Africa.
Best way to study radiological imaging. Very good quality x-rays!
Luzaan De Kock - University of the Free State, South Africa.
It is very informative and helps to learn radiology... Good quality x-rays.
Lani van Heerden - University of the Free State, South Africa.
Radiology Masterclass is a useful resource to revise medical imaging. The use of pictures that can be viewed normally and then also to highlight areas of interest is great. The key points are helpful.
Jasmine Latter - University of St Andrews, Scotland.
I think this is the best site for the beginners in radiology. Especially the pictures and outlines of the important structures or findings, when we hover over the images are the best tools one can use to teach...
Parthiban Balasundaram - Government Medical college, Trivandrum , India.
An excellent website for medical students wishing to gain a solid foundation in radiology.
Matthew Beattie - Nottingham Medical School, England.
This website is fantastic - it has revolutionised my understanding of radiology.
Hannah Slevin - Southampton University, England.
This is one of the most informative sites for young doctors to learn good radiology diagnostic skills.
Nazrin Khan - Apollo hospitals, India.
EXCELLENT!!
Jobin Matthew Jose - Amrita Institute of Medical Sciences, Kochi, India.
Great interactive site! Fabulous for learning key points!
Madusha Chandratilleke - Sir Charles Gairdner Hospital, Australia.
This is one of the most helpful, easy-to-follow radiology websites I have ever used! I highly recommend this website to all medical students and junior doctors.
Jessica Cheong - William Harvey Hospital, England.
To let us know what you think please get in contact via the contact us page.
Thank you!
NEWS -
New Trauma X-ray Quizzes
Trauma X-ray Quiz - Upper Limb
The Radiology OSCE (video)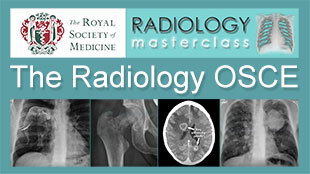 Presentation by Dr Graham Lloyd-Jones at the annual finals conference of the Royal Society of Medicine. Essential tips on how to get through the Radiology OSCE. Watch video >>
Follow Radiology Masterclass
Please subscribe to the Radiology Masterclass email newsletter to keep informed about new content, offers, competitions, and the affiliation scheme.
Radiology at a Glance
Co-authored by Dr Graham Lloyd-Jones, Radiology at a Glance is an excellent overview of the basics of medical imaging. See independent review.