Radiology Masterclass

Affiliate Scheme Information
Introduction
The Radiology Masterclass affiliate scheme is an arrangement whereby discounted access is granted to the accredited course completion assessment certificates provided by Radiology Masterclass website for all individuals who are associated with an affiliated institution. The scheme also forms an agreement of proper use of educational material from the site on the basis that institutions do so in accordance with the Radiology Masterclass site terms and conditions of use. Any individual wishing to use material from the site must join the affiliate scheme on behalf of their institution (or ask another to do so) prior to use of images or text-based materials.
To become a member please complete the affiliation scheme application form.
Affiliation representative
An affiliate representative can be any person from an academic or health care institution, preferably someone in a role as a medical educator or someone acting on their behalf. An affiliate representative can form the affiliation with Radiology Masterclass on behalf of their institution, and acts as a single point of contact with Radiology Masterclass.
Courses
Courses provided by Radiology Masterclass are accredited in accordance with the CPD/CME scheme of the Royal College of Radiologists - London - UK. International users can claim the credits and should convert the number of CPD/CME credits awarded to AMA/ACCME credits. All course completion certificates state the name of the candidate, the course assessment completed, the mark achieved as a percentage, a statement of course completion with a 'pass/merit/distinction' statement as appropriate. The certificate is image-based, non-editable, and can be verified online by institution representatives via a unique verification code stated on the certificate. Each assessment added to a user's account permits five attempts in total to improve their score.
Discounts
Discounted access to the courses section is facilitated by one of two methods.
Method 1 - By use of an institution specific promotional code which the affiliate representative can disseminate to anyone associated with their institution. Individuals who then wish to make use of the discounted access must use their institutional email address to register and log in. They do not necessarily have to complete the course completion tests on the premises of the institution, but institutions may wish to arrange invigilated access.
Method 2 - By direct payment from an affiliated institution for access to specific course assessments. Radiology Masterclass will raise an invoice to be paid by the affiliated institution according to the number of users and the course assessment undertaken.
Discounted access is generally agreed at a 20% reduction. However, if a large number of users from an affiliated institution are anticipated then Radiology Masterclass can offer a greater discount.
To become a member and gain access to discounts please complete the simple affiliation scheme application form stating the method you wish to use.
Large institutions
For large institutions IP authentication can be facilitated which limits access to the test area to computers on the institution premises. There is a small initial set-up fee and an annual service fee depending on the number of users.
Institutions from the developing world
Radiology Masterclass seeks to make access to its courses section affordable to those from developing countries. Discounted access can be granted on a case by case basis to institutions from developing countries who are members of the affiliate scheme. Please make your position clear when completing the affiliate scheme application form.
Affiliation terms
An affiliated institution should agree to allow Radiology Masterclass to list the institution name with a link to the institution website. The affiliation is reviewed every year. Users from affiliated institutions must make use of the Radiology Masterclass website in accordance with its terms and conditions.
Affiliate scheme application
If you are interested in joining the affiliate scheme on behalf of your institution then please complete the affiliate scheme application form.
Best wishes
Radiology Masterclass
NEWS -
New Trauma X-ray Quizzes
Trauma X-ray Quiz - Upper Limb
The Radiology OSCE (video)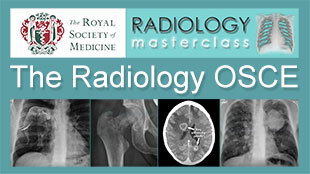 Presentation by Dr Graham Lloyd-Jones at the annual finals conference of the Royal Society of Medicine. Essential tips on how to get through the Radiology OSCE. Watch video >>
Follow Radiology Masterclass
Please subscribe to the Radiology Masterclass email newsletter to keep informed about new content, offers, competitions, and the affiliation scheme.
Radiology at a Glance
Co-authored by Dr Graham Lloyd-Jones, Radiology at a Glance is an excellent overview of the basics of medical imaging. See independent review.