Contact Radiology Masterclass

Contact Form
Please note this is not a registration form. To sign up for the accredited course assessments please register here.
Courses feedback
If you have signed up to one of our course completion assessments (see the courses page) we invite you to offer feedback using this contact form. For this purpose please mark the subject box as 'course feedback' and please tell us which specific course you would like to feedback about. We want our courses to be the best online radiology educational resources available. Any feedback to help us improve would be very welcome. Thank you.
COVID-19 collaboration
If you are a scientist or clinician caring for patients with COVID-19 and you would like to collaborate with Radiology Masterclass to further our understanding of the disease across disciplines, then please use this contact form to let us know. Please use your professional email address and provide your job title. Thank you.
Privacy notice: Your details will not be passed to any third party. The email address you provide on this form will only be used by Radiology Masterclass to reply to your message.
Please note that no response will be made to requests for personal medical advice or a radiological opinion.
NEWS -
COVID-19 Lung Disease: A Pulmonary Vasculopathy
COVID-19 lung disease is not a respiratory pneumonia. Radiologically the disease is more accurately considered to be a disease of the lung vessels, a pulmonary vasculopathy.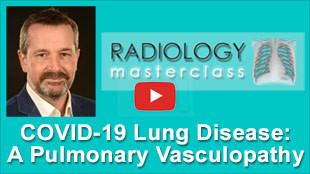 Watch the presentation by Dr Graham Lloyd-Jones, Director of Radiology Masterclass, given on November 11th 2020 at the annual (virtual) conference of the British Society for Haematology, titled - What can the Radiology tell us about the vasculopathy of COVID-19 lung disease?
COVID-19 discussion update
Update from Dr Graham Lloyd-Jones, director of Radiology Masterclass. Acute COVID-19 lung disease: A pulmonary vasculopathy - not a respiratory pneumonia
Email Newsletter
Please sign up to the Radiology Masterclass email newsletter to keep informed about new content, offers, competitions, and the affiliation scheme.
Facebook
Follow Radiology Masterclass on Facebook to hear when new content is published.
Recommended textbook
Radiology at a Glance - 2nd Edition
Co-authored by the author of Radiology Masterclass, Radiology at a Glance is a complete overview of medical imaging suitable for medical students, junior doctors and other health professionals. Second edition published September 2017.